Today, I will teach you how to  Populate Listbox in Visual Basic with MySQL Database. This will show you how the data of a table in the database are displayed in a ListBox.
Let's begin:
First create a Database named "info".
Then, create a table named "persons".
After creating a table in the database, create a query for inserting data in the MySQL Database.
After inserting data in the database, open the Visual Basic and create a new Windows Form Application. In the Form add a ListBox.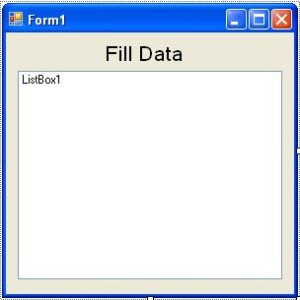 After dragging ListBox, double click the Form and set up the connection to MySQL Database and Visual Basic. After that, declare all the classes that are needed above the.Form1_Load
Public

con

As

MySqlConnection

=

New

MySqlConnection

(

"server=localhost;user id=root;database=dbinformations"

)

Public

cmd

As

New

MySqlCommand

Public

da

As

New

MySqlDataAdapter
In the Form1_Load, you have to fill the data in the ListBox that came from the database in the first load Form.
Private

Sub

Form1_Load

(

ByVal

sender

As

System

.

Object

,

ByVal

e

As

System

.

EventArgs

)

Handles

MyBase

.

Load

'SET YOUR COMMANDS TO PROVIDE A TEXT-BASE INTERFACE INTO THE MYSQL DATABASE SERVER.

'AND ONCE IT'S CONNECTED, YOU CAN MAKE QUERY OR MANY OTHER OPERATION.

.

CommandText

=

"SELECT * FROM person"

'SET THIS STORED PROCEDURE TO SELECT THE RECORD IN THE DATASOURCE

'REFRESHES THE ROWS IN THE DATASER TO MATCH IN THE DATASOURCE USING THE TABLE NAME

'SET THE DATA SOURCE FOR THE LISTBOX

.

DataSource

=

ds

.

Tables

(

0

)

'SET A PROPERTY TO DISPLAY THE DATA THAT CAME FROM THE DATABASE IN THE LISTBOX

.

DisplayMember

=

"FirstName"
If you have any questions or suggestions on how to populate listbox, just contact through our contact page.
Download the complete source code Here