This Visual Basic Tutorial is all about OpenFileDialog.
The OpenFileDialog control allows the user to open a file and select any file to open. The user can also check if the file does exists and open it. The OpenFileDialog control class that derives from the abstract class FileDialog.
Example:
The New Project dialog will appear.

Select "windows" in the project types, hit the "windows form application" in the templates and hit "ok".
Add a richbox, a button and the openfiledialog in the form. Do the form just like this.

Double click the button and do this following code.
Try

'CHECK THE SELECTED FILE IF IT EXIST OTHERWISE THE DIALOG BOX WILL DISPLAY A WARNING.

'CHECK THE SELECTED PATH IF IT EXIST OTHERWISE THE DIALOG BOX WILL DISPLAY A WARNING.

'GET AND SET THE DEFAULT EXTENSION

'RETURN THE FILE LINKED TO THE LNK FILE

'SET THE FILE NAME TO EMPTY

.Filter =

"Text files (*.txt)|*.txt|All files|*.*"

'SET THIS FOR ONE FILE SELECTION ONLY.

'SET THIS TO PUT THE CURRENT FOLDER BACK TO WHERE IT HAS STARTED.

'SET THE TITLE OF THE DIALOG BOX.

.Title =

"Select a file to open"

'ACCEPT ONLY THE VALID WIN32 FILE NAMES.

If

.ShowDialog = Windows.Forms.DialogResult.OK

Then

Try

RichTextBox1.Text = My.Computer.FileSystem.ReadAllText(.FileName)

Catch fileException

As

Exception

Throw fileException

MsgBox(ex.Message, MsgBoxStyle.Exclamation, Me.Text)
Output: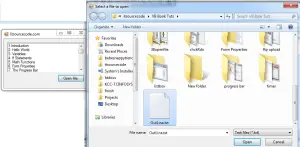 Readers might read also: