This tutorial is all about How to Create an AutoComplete in the ComboBox in VB.Net and MySQL Database.
In this tutorial, I will teach you how to create an autocomple combobox in vb.net and MySQL database. The function of this is, when you type the first record in the combobox, it will automatically suggest and append. That you don't have to click anymore the dropdown and scroll down the list of records that you're going to select.
So, Let's Begin:
Open the Visual Basic and Create a new Windows Form Application. Then, set the Form just like this.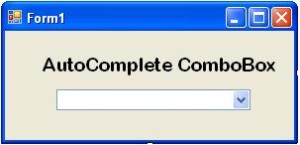 After setting up the Form, double click it and set the connection of MySQL Database to Visual Basic. After that, declare all the classes that are needed above the Form1_Load.
'SET THE CONNECTION MYSQL DATABASE TO VISUAL BASIC.

Dim

con

As

MySqlConnection

=

New

MySqlConnection

(

"server=localhost; user id=root; password=; database=dbmember"

)

'A SET OF COMMAND IN MYSQL

Dim

cmd

As

New

MySqlCommand

'SET A CLASS THAT SERVE THE BRIDGE BETWEEN A DATASET AND DATABASE FOR SAVING AND RETRIEVING DATA.

Dim

da

As

New

MySqlDataAdapter

'SET A CLASS THAT CONSIST A COMPLETE SET OF DATA
In the Form1_Load, set up a method for filling data in the ComboBox.
Private

Sub

Form1_Load

(

ByVal

sender

As

System

.

Object

,

ByVal

e

As

System

.

EventArgs

)

Handles

MyBase

.

Load

'SET A QUERY FOR RETRIEVING DATA

Dim

sqlquery

As

String

=

"select * from member"

'IT HOLDS THE DATA TO BE EXECUTED

'FILLING THE DATA IN THE TABLE

'GETTING THE DATASOURCE OF THE COMBOBOX

ComboBox1

.

DataSource

=

ds

.

Tables

(

0

)

'SET THE FIELD IN THE TABLE TO BE DISPLAY IN THE COMBOBOX

ComboBox1

.

DisplayMember

=

"name"
After that, go back to the Form Design. Click the ComboBox and go the the Properties. In the properties, hit the "AutoCompleteMode" and select "SuggestAppend". Then, hit again the "AutoCompleteSource" and select "ListItems".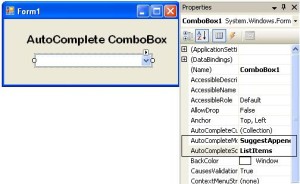 Now, press F5 on the keyboard to run your project.
You can download the complete sourcecode. Just click the code file.
The database of the project is in here
Readers might read also:
(Visited 1,065 times, 5 visits today)